News
Midgar Special Pack Final Fantasy Themed DLC Powerwash Simulator
Square Enix announced a Final Fantasy VII DLC in PowerWash Simulator named the Midgar Special Pack.
The Midgar Special Pack releases on March 2, 2023, for free. The free pack contains five new levels, and players can accept jobs from both loyal members of the Avalanche and Shinra bigshots.
Here is an overview of the Midgar Special Pack:
"FuturLab are collaborating with the FINAL FANTASY VII team to bring the gritty city of Midgar to PowerWash Simulator. You could say that Midgar is facing an Avalanche… of dirt.
This new pack contains five levels set above and below the plate. Armed with your collection of high-pressure power washers, you'll set to work clearing up the mess made by Midgar's usual suspects – Don Corneo's lackeys, Professor Hojo's 'specimens' and Heidegger's dangerous tech.
You'll accept jobs from both loyal members of Avalanche, and Shinra bigshots. As you clean, you'll discover their stories through text messages.
Of course, the city of Midgar is a far cry from the not-really-mean streets of Muckingham – you'll have to contend with new dirt types, such as bio-residue, as you spray your way through some truly iconic locations.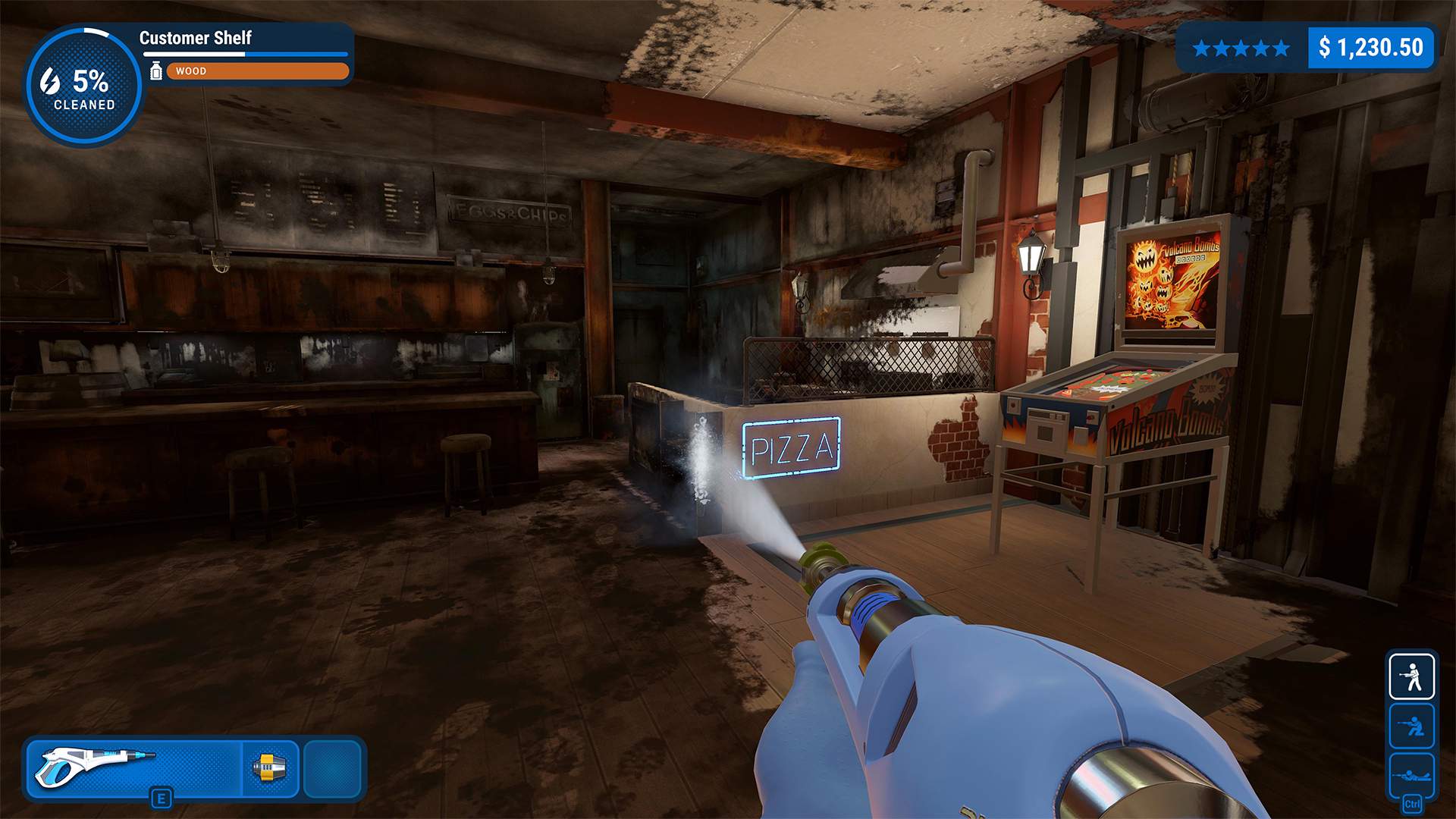 So what are we cleaning in the Midgar Special Pack?
As mentioned, the Midgar Special Pack contains five levels:
The Hardy Daytona and Shinra Hauler
How is anyone expected to drive away from the Shinra Building in dirt-encrusted vehicles?
Someone needs to make them sparkle once more. You are that someone.
The mighty Scorpion Sentinel
Clean while its tail is up! It's gonna counter with… well, nothing. It's been deactivated for the cleaning job at hand – you're fine.
But the Scorpion Sentinel, on the other hand, is looking a little worse for wear. It's covered in grime and requires one heck of a spring clean.
The charming Seventh Heaven
The interior of the beloved Sector 7 bar is absolutely filthy – nobody's going to want to sit and sup a Cosmo Canyon cocktail in that. Or eat Egg and Chips.
Better get to work.
The Mako Energy Exhibit
The Shinra Building's famous energy exhibit is caked in all kinds of muck. You'll have to be sure to get into all the nooks and crannies of that model of Midgar in order to make it shine as brightly as the lifestream itself.
Why you? Well, it's the Shinra Electric Power Company, not the Shinra Electric Power Washing Company, right?
The formidable Airbuster
The pinnacle of Shinra engineering, this super-powerful mech is set to make a big splash when it's deployed against the company's enemies.
Of course, it can't go into service looking like that, so give it a once-over with your power washer. Actually, make that a twice-over at the least – it's very dirty!
---
When is the Midgar Special Pack releasing?
The Midgar Special Pack is set for release March 2, 2023 for all platforms: PS5, PS4, Xbox Series X|S, Xbox One, Nintendo Switch and PC via Steam.
And – cue the victory fanfare – It's free to anyone who owns the game!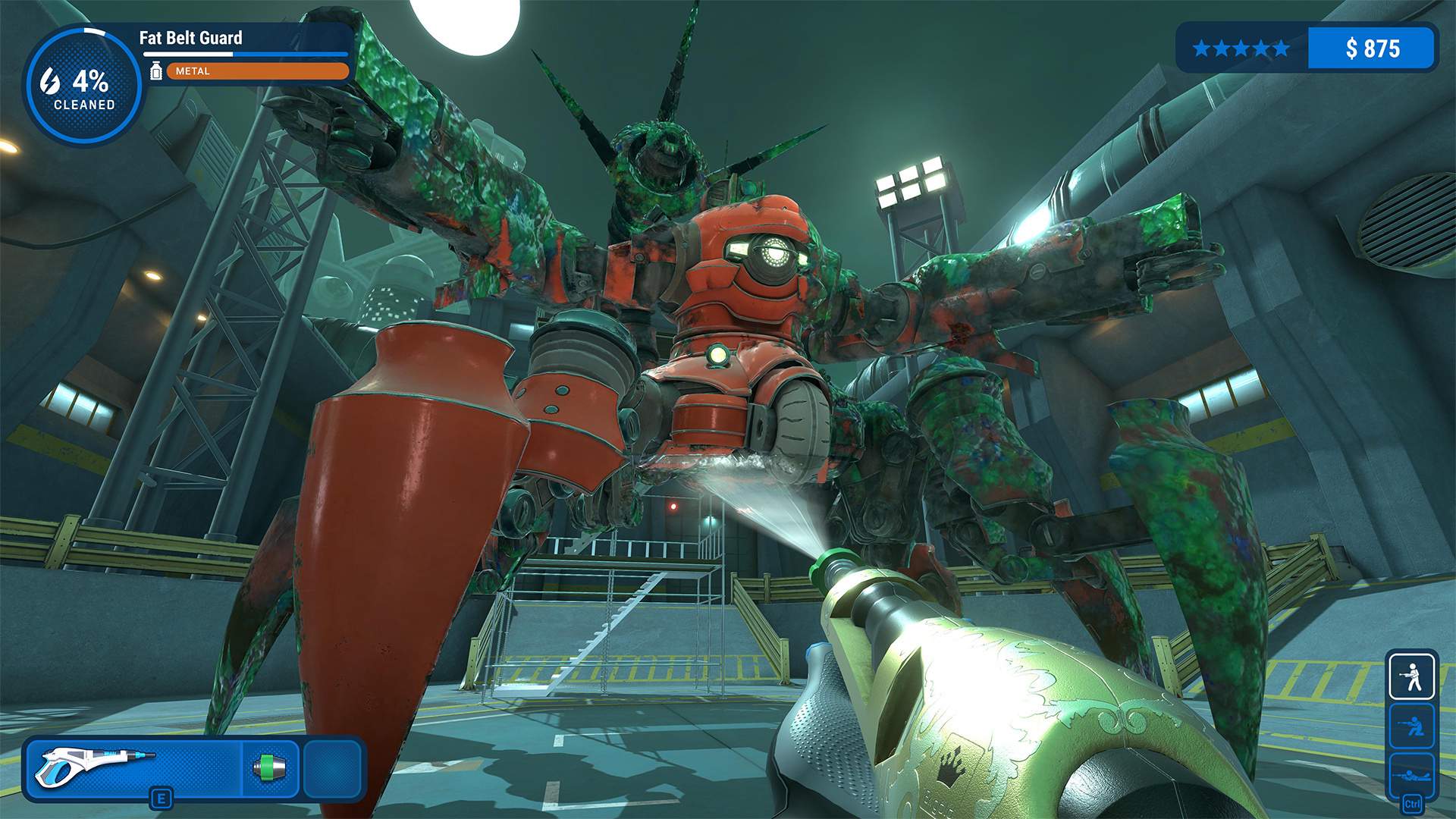 We hope you're excited to start cleaning up Midgar. Of course, there's plenty of PowerWash Simulator fun to experience right now:
Fans and critics alike rave about this game, and now a whole new audience can see what everyone's gushing about. If you're about to start your PowerWashing adventures, here's what to expect:
Super-satisfying gameplay – from the feel of the water to the 'ding' of completion, it's all so, so rewarding
An interesting story – yes, there's a story and it goes places you may not expect
A laid-back experience – PowerWash Simulator is all about good clean fun. There's no arbitrary time limits or enemies. You get the job done how and when you want.
Super-satisfying gameplay – I know we said this already, but it really is impossible to stress how good it feels to clean
Online co-operative gameplay – you can play through the story with a friend, or team up with up to three other players in Free Mode.
Hours of fun – all the content from previous releases are included in these new versions
Super-satisfying gameplay – yes, we're still going on about it. If you play the game, you'll get it.
Don't forget, there's also the Tomb Raider Special Pack available now for all platforms – 5 new levels set around the illustrious Croft Manor.
So, have fun cleaning and we'll see you in Midgar in March!
What are your thoughts about this? Let us know in the comments below.