theHunter: Call of the Wild has received a new update, and it's not just any regular patch. Say hello to the Ambusher Pack, which offers brand-new gear that could change how you play the game.
For 4.99 EUR/USD, you can get the Ambusher Pack across various platforms, including Steam, Xbox, PlayStation, Epic Games Store, and the Microsoft Store.
This new equipment lets you attract animals to a specified location remotely. The device is pre-loaded with sounds for all callable animal species and can be managed from a distance with a remote.
Below, you can find the complete patch notes:
theHunter: Call of the Wild Ambusher Pack Patch Notes
Get your digital hands on the first-ever electronic caller for the game, as well as a versatile lever-action rifle and accurate takedown recurve bow.
Priced at 4.99 EUR/USD, the Ambusher Pack is available now on Steam, Xbox, PlayStation, Epic Games Store, and Microsoft Store.
QUIST RED PRO ELECTRONIC CALLER
Gain an advantage by remotely calling animals to a location. This clever device comes prepared with sounds for every callable animal species and can be monitored from long distances via the accompanying remote.
MORADI MODEL 1894
Experience a modern take on the concept of sharing ammunition with a revolver sidearm. This lever-action rifle pairs classic design with the versatility of rail-mounted optics, such as the new Tru-vision Tritium Sight, and the power of .44 Magnum cartridges.
STENBERG TAKEDOWN RECURVE BOW
Silently hunt your prey with the Stenberg Takedown Recurve Bow. Slightly lighter in draw weight compared to its competition, this short-ranged bow offers excellent handling and accuracy for ethical hunting.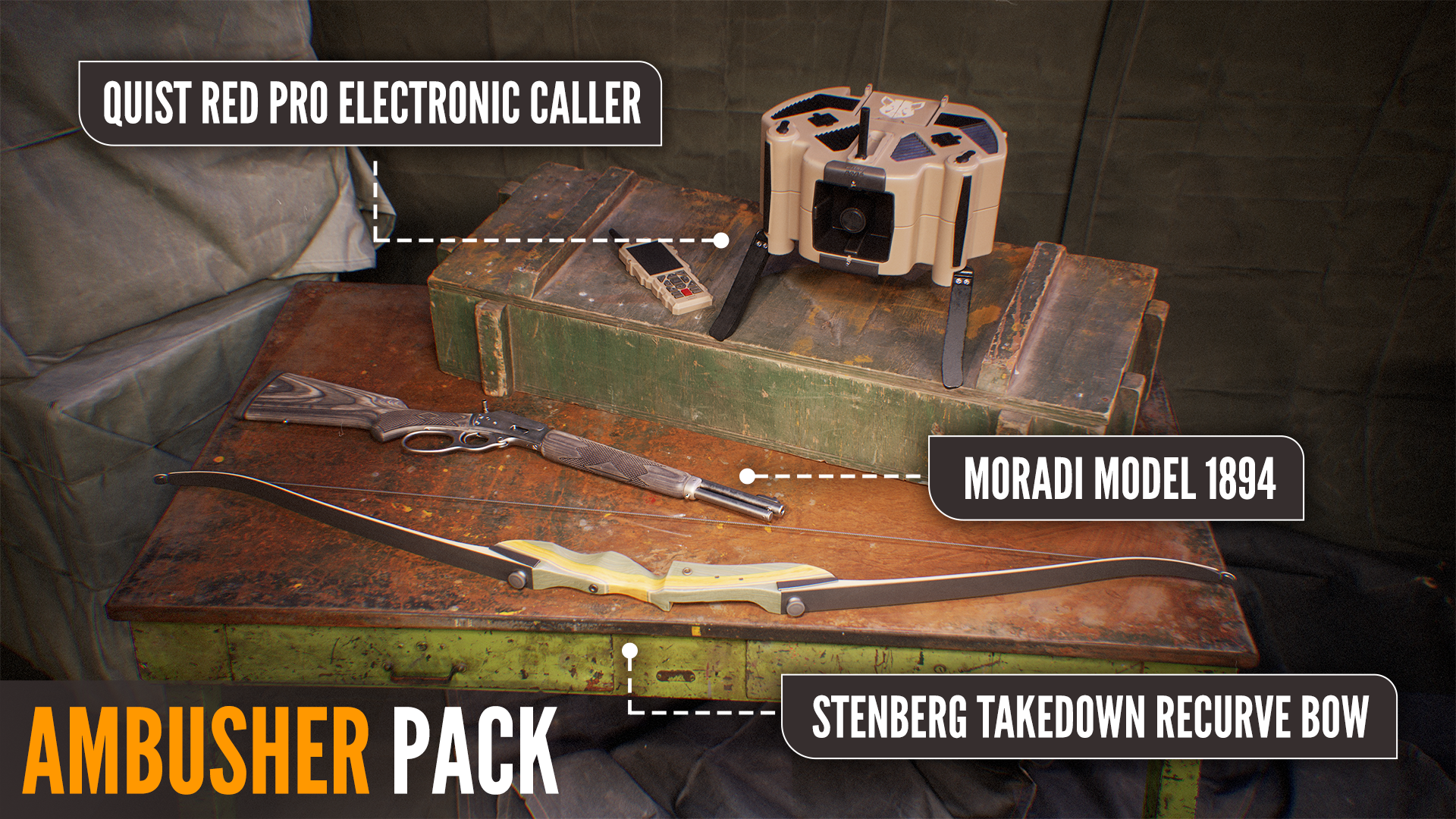 Looking for more information about the Electronic Caller and weapons? Check out this Dev Diary!
FREE OCTOBER UPDATE: PATCH NOTES
Today, we also released a decent-sized patch that addresses a host of player-requested improvements and fixes to theHunter: Call of the Wild. Let's take a look!
FEATURE UPDATES
We've added a new option to expand or collapse UI Categories with a controller while navigating the Inventory.
The archery range on Parque Fernando has been updated with targets fixed at the appropriate distances for the bow and crossbow zeroing settings to facilitate practicing with the new Recurve Bow.
IMPROVEMENTS
We've provided a better description of certain mission objectives to make it more clear how they are supposed to be completed.
We've updated the scrollbars in certain text boxes to look consistent.
BUG FIXES
GAMEPLAY
An issue where previously placed items could be removed from a Reserve during game startup has been addressed.
The Couso Shotgun will no longer jam when switched to after firing another shotgun or pistol.
We've fixed an issue on the Solokhin rifle that caused the scope to dip off-screen when rechambering.
Certain perks will now be correctly applied to longbows.
We've addressed the zeroing inaccuracies on the .223, .270, and .243 rifles when they were zeroed at 300m.
Certain levels of the "Lightning Hands" perk will no longer cause missing reload animations for Cacciatore and Nordin shotguns.
Aiming on all bows has been updated to correct light and heavy arrow inaccuracies.
We've fixed an issue that could cause the "reload" animation for bows to play twice.
We've addressed an issue where weapons that could fire ammunition with significantly different ballistic properties (e.g. shotguns with a slug or pellet ammo, the Hudzik Caplock with round or minnie balls) would not switch to the correct sighting and zeroing settings when changing ammo.
We've fixed the accuracy issues on the Strecker shotguns.
The Goose blood tracks will no longer disappear under certain conditions.
Bleeding out animals that were supposed to die won't remain alive anymore.

Developer's Note: We're sorry but they cannot be a part of Spooktober this year.

Southeastern Spanish Ibex has been returned to class 4.
We've addressed an issue with the location where the ATV would spawn at the Red Stone House Outpost on Emerald Coast.
Players will no longer appear to float briefly when entering treestands.
MULTIPLAYER
The hot air balloon in Emerald Coast should now be located in the same place for all players in multiplayer.
Animals in the sanctuary on Emerald Coast will now be visible to all players in a multiplayer session.
We've fixed an issue that prevented the player's status from returning to normal if they were inside a blind, or other structure, as it was dismantled.
Players should now be able to hear the sounds of equipment being placed or dismantled in multiplayer.
Challenge results will now be correctly saved in multiplayer.
The chat-blocking settings on Windows Store will now work as intended.
We've addressed an issue where players on the Microsoft Store version of the game were sometimes unable to join multiplayer games when invited by their Xbox Network Friends.
UI
The game will no longer become unplayable if the player dies while the harvest screen is being displayed.
The DLC Store menu will no longer become unresponsive if the player loses connection to the internet while accessing that menu.
We've fixed an issue with PlayStation Players not being able to access the virtual keyboard while not being connected to PSN.
Magpie Goose decoys should now be labeled correctly on the map.
Changing things in the weapon wheel while riding the ATV will no longer cause items to disappear.
Remapping the "open map" key should now properly remap both the "Open" and "Close Map" functions to the new key.
Using the "reset to default" option in the settings menus will now correctly reset all options to default.
PC players should now be able to select the X-ray view on the harvest screen while viewing a TruRAC animal and using a controller.
A ghostly silhouette will no longer appear on the harvest screen when switching back and forth between the X-ray view.
We've fixed an issue where certain mission animals would show up on the harvest screen with their horns detached.
The Weapon Customization menu will now immediately update after purchasing a Customization package.
Pressing the "favorite" button while in inspect mode in the Customization menu will no longer cause issues.
We've fixed an issue with the scrollbars not working properly in news pop-ups.

Developer's Note: This fix also affected the main menu and cosmetics screens.

An issue causing the "Skip" button text to be cut short in various languages during cinematics has been addressed.
We've addressed an issue that caused item text descriptions to be slightly clipped.
The description on the Brightsight Rangefinder Bow Sight no longer misleads players by indicating the wrong activation button.
We've found and returned the missing back button icon when viewing objects while using a gamepad.
Menu items behind a news pop-up should now be interactive again.
We've fixed an issue where the "Y" button on a controller would select a DLC item in the DLC store.
An issue where a confusing UI tooltip would appear on consoles when "Hide all animal clues" was turned on has been fixed.
STABILITY
The game will no longer crash when launched from the Epic Games storefront.
We've fixed a crash that could occasionally occur when loading or switching reserves.
The animal call UI indicator appearing on the screen should no longer occasionally crash the game.
GRAPHICS
Strong winds will no longer cause the water waves to look strange.
We've fixed an issue that caused foliage to appear unintentionally blurry.
We've improved the look of Screen Space Contact Shadows.
A collision issue on firepits has been addressed.
Ambient Occlusion issues on the .338, .270, .223, .44 Revolver and .357 Magnum have been fixed.
AUDIO
The triumphant fanfare when harvesting Great Ones has returned.

Developer's Note: Ta-daa!
Follow Us