The newest patch for EA SPORTS PGA TOUR is set to bring many new changes and improvements to the game. The patch, version 3.0, will introduce a new course, gameplay tweaks, bug fixes, and more.
A major highlight of this patch is the addition of the Oak Hill Country Club to all game modes. In career mode, the PGA Championship event will alternate between the Oak Hill Country Club and Southern Hills every season. The menus, screens and key art have been updated to reflect the Season 2 PGA Championship theme.
For further details, check below:
EA SPORTS PGA TOUR Patch Notes 3.0
As a result of player feedback, improvements have been made to support better playing without the putting grid:
A new low-view camera height option has been added to the zoom camera while putting.
The "Zoom = Off" gameplay setting option has been updated to allow zoom when the golfer is within 70 yards of the pin.
This better represents a pro golfer's ability to survey greens and ensures that all players can now toggle to this low camera height to manually read greens.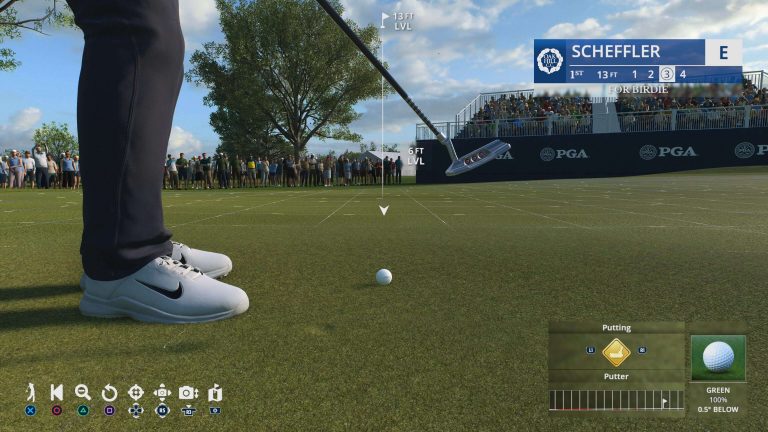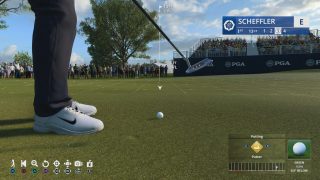 Updates have been made to cup physics, which result in lip-ins and lip-outs occurring more frequently. Additionally, the follow camera will now sometimes zoom in on the ball when it is close to the hole.
In order to improve online matchmaking for all players, Social mode has been removed and Competitive mode has been renamed "Online".
Gameplay:

Fixed issue where golfer would sometimes react positively after hitting ball into a hazard.
Fixed a potential exploit with 3-Click swing mechanic where opening the scorecard menu after the third click would cancel the shot.
Fixed a softlock that would sometimes occur when using auto tap-in.
Minor adjustments to bump ball logic.

Cameras:

Manually zooming out the camera while the ball is in motion will now see the ball remain centered in the middle of the screen.
Fixed issue where post-shot reaction cameras would occasionally zoom in too close to the golfer.
Fixed for incorrect camera angle being shown when selecting drop zone option.

Settings:

[PS5] Audio settings changes are now persistent after rebooting console.
Fixed issue where Hole Flyover setting would sometimes not be applied when changed in gameplay during a round.

Career:

Fixed AI Pairings so that playing partner in rounds 2 – 4 is not always Scottie Scheffler.
Banner with golfer tee times is no longer displayed when entering into a playoff.

Challenges:

Hole flyovers on shot challenges have been permanently disabled in order to speed up play.
Fixed issue where course preview screen would sometimes show incorrect holes for the upcoming challenge.
Show challenge star-status banner each time a hole is completed.

Courses:

[Augusta National] Added drop zones for holes #12 and #15.
[PGA WEST] Fixed missing rock collisions on hole #10.
[PC] Improved rendering of shadows in bunkers when using low quality visual settings on several courses.

Tournaments:

Daily and weekly tournaments for Simulation gameplay style have been added for Season 2.
Fixed a potential exploit where players were able to quit without paying an entry fee after playing shots on the first hole. Now, the entry fee is charged after the first stroke.
Fixed issue with tournament countdown timer not updating during gameplay.
Fixed issue where backing out of course preview screen would always navigate the player back to Seasonal Tournaments.
Audio:

Added additional variations to eagle putt commentary.
Fix for commentary sometimes saying the wrong lead amount.
Volume adjustments to voice overs during intro segments in career mode.
Fixed an issue where main menu music was being played when entering a playoff.
Added additional bird SFX variations.
Updated SFX for when the ball rolls on dirt.
Fixed issue where camera SFX were being heard when crowd is disabled.

UI:

[Quests] A countdown timer is now displayed for limited time quests.
[Challenges] Fix shot types screen overlapping with challenge info in Scorecard Menu.
[Online] Fixed issue where players who are removed from a session for being idle didn't always receive a popup notification message.
[HUD] Dollar sign added to the golfer's score in HUD when playing a Skins match.
[HUD] Fix animation when displaying between holes banner during a Skins match.
[EIS] Fixed issue where course preview screen would not highlight the correct holes when playing "All Par3s/4s/5s".
[Tooltips] Fixed previous crash with tooltips so that they can be re-enabled in menus and modes in the front end.
[Tooltips] Optimize the amount of tooltips being shown in the front end.
[Equipment] When selecting loft for club, fixed issue where the yardage shown in the blueprint card footer was not matching the yardage of the selected loft.
[Store] Fix equip button so that it is present only when focusing on items that can be equipped to the golfer.
[Store] Fixed issue where previewing a shaft will make it appear every time when previewing additional clubheads.
Fix issue where changes in Bio node were not being saved when navigating to the Body node.
Various additional fixes to Equipment and Golfer Identity screens.
[PC] Mouse support added to Select Golfer screen during golfer creation.

Misc:

[PS5] Fix for the 10% EA App discount not being present when purchasing points in EU region.
[PC] Wipes and NIS transitions are now displayed properly while playing with a wide screen monitor.
Fix issue where some putter grips were being displayed upside down in game.
These updates will be live in-game on May 16! Follow EA SPORTS PGA TOUR on Twitter and Instagram for updates.